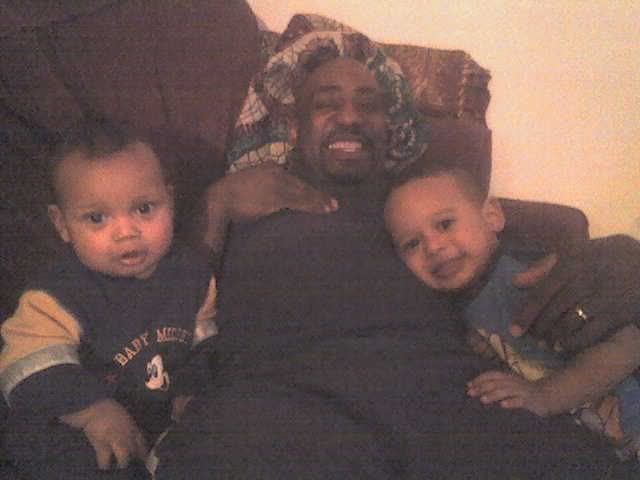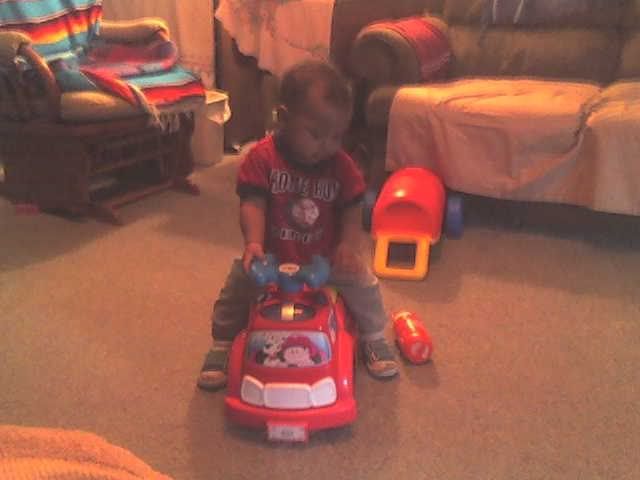 Pictures in order.
1. Isaiah in his new sunglasses and CARS hat
2. Dad with Kendall and Isaiah HAPPY BIRTHDAY ROGER!
3. Kendall is trying to walk and get around, here he is on his scooter car moving it around.
4. Isaiah loved to laugh and smile!
5. Kendall loved to be in front of the camera! Thank you Jesus, for letting him get better and healing his chubby little body!
Well, it is monday and this week has been a little bit of a stressfull week.
Starting on Wednesday, Kendall woke up with a 102.8 temp. I called the doctor and he put him on Motrin and Tylenol. His temp went down a bit but was still over 100. Thursday morning he woke up with 103.7 and the doctor had us go in to the ER to get him checked out. Kendall was eating normally and not acting sick.. so we weren't sre what could be wrong with him. They checked for a UTI, nothing.. and then took some blood.. I hated it! Kendall is a screamer! :-( They said that it would take 24 hours for the result of the blood test to come back.. so they sent us home and said it was probably a virus going around and to keep him on Motrin and Tylenol. His temp went down as low as 99. but at night it would go back up to 103.7 at the highest.. he was a tired, but still normal acting. PLUS he was cutting about 4 teeth at one time, probably contributing to the temperature.
Besides Kendall's temp, Roger's birthday was on friday and I had planned a SURPRISE Birthday Party for him.. it was going well, he had no clue..he thought that his daughter was taking him out to dinner..Well, my dad slipped up and told him that he was coming over there house for the dinner ...that got Roger started, he was calling around and snooping trying to figure things out! So, I had to work my magic and get him back to thinking that it was all a mistake and his daughter was still taking him to eat. He was very surprised and the party went well and he had a great time! so HAPPY BIRTHDAY ROGER! I LOVE YOU! (when we were in the ER I had to make sure it was okay for us to be around other kids with Kendall's temp high in case it was some sort of virus <---but the doc said it was okay.. I am sure Roger was wondering why I wanted to know that)
And I was sad to find out that a sweet young lady in our church, Stephanie Krupnek, had passed away on Wednesday.. ( I had to miss church because of Kendall, so I didn't find out on Thursday night when it come out in the paper) She had a long battle with re accuring tumor's and the difficulties is presented and then with cancer... so I am sure her family is comforted knowing that she has peace now and a brand new healthy body...and are glad to know that she had accepted Jesus as her savior and is with Him now!
Sunday, it seemed that Kendall's temp was okay now but Saturday night, Isaiah started coughing.. his temp was up at 100. so I was wondering if this little virus had been passed along! We stayed home Sunday morning! I was so sad because we were missing the Church Anniversary Sunday, but knew that it was best for us to make sure we were okay before getting out with all the other kids... I got to go to Sunday evening service..Isaiah stayed with my dad, and I took Kendall with me... Isaiah's temp was fine all day, so he just has a little cough...
MONDAY MORNING< TODAY>
we got a call from the ER charge nurse and she said that Kendall's blood tests came back positive and that we needed to see our pediatrician today if possible.. I had already had an appointment.. she said she was going to fax the results to the doctor.. So I called the doctor's office and they said they wanted to see us....
I had to go to the allergy doctor this morning first, and they decided I need to start getting allergy shots, weekly and then we went to see the pediatrician...
He said that there were four days of results, I don't know if they tested the blood four times, but the last time showed bacteria in the blood.. and this is probably why he had the fever. but the doctor believed that it was contaminated because the other three times were normal. He said that since his temp was back to normal today he was going to prescribe an antibiotic just to be safe and he can take it home.. if he had still had a fever he would have had to go to the hospital to get an antibiotic in the iv.. so we were blessed that his fever broke finally, yesterday.
wow.. that was a mouthful...
so through all this we have seen God bring peace, strength, celebration for continuing life and for peace in the loss of a life, and comfort to the family that lost the loved one..
GOD IS GOOD ALL THE TIME AND ALL THE TIME GOD IS GOOD>>>
I am so blessed.